Thanksgiving was as epic as it usually is at my house, from the waking up early (almost 45 minutes earlier than my alarm, in my case - and I'd had a dream that I was hosting an X'mas party and running late and stressing out >.>) to the day of cooking, to the awesome appetizers, which are different every year, to the predictable tastes of everything we had for dinner, to the massive pile of dishes afterwards... and now the sleepiness. XD It was generally a lot of fun, though. Everyone all got along and my spacey grand-aunt wasn't too out of it this year. Last year, she was almost falling asleep at the table. This year, though, she even remembered that Saemi had been with me last year, and asked where she was. :O
I made two and a half icons today, which is, aside from the turkey day-related things on my to-do list, all I was able to get done... Tomorrow is a trip to Sacramento to visit Evil Gramma, which will be So Much Fun. I wonder how many bushels of various bitter vegetables she'll try to give us. >.> Oh, and I posted some drabbles I'd written on the train for my first post evar at

je100
(finally), so that was productive and not on my list at all. Saturday will have to be my Really Productive day, then.
Mmm, in shiny news, Rui has an amazing ability to look pretty in all sorts of hairstyles, the most recent being dreads, which many Jrockers seem to end up using as a pineapple impression. Are jealous. Especially because he has popped up with a new style (that looks like an old style, but shh) and a lighter color, and it looks lovely on... at least the left side of his head. And okay, I'm a sucker for those... mini-cornroll things. Whatever you call them.
The first picture is from his blog, and the second is from Haku(-sama)'s. Haku's the bassist for
Canzel
. I am sort of surprised I'd never heard of the band before... or it was just the name in passing and I don't remember it. Anyhoo.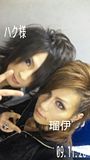 Pretty! Haku's got a cute little smile, too.
...and I'm really way more sleepy than thankful, but it's Thanksgiving, so what the hey. XD