yeouya
Got sent home from work due to (my super attractive) loud sniffling and coughing. Also, I don't have any classes to prepare for until Wednesday. I think I would've been able to stick it out for the rest of the day (they tried to send me home an hour and a half into the day, so I said I'd stay till lunch) but I'm relieved to not have to. Feel like crap!
Have some chocolate!
In Japan, Valentine's Day is traditionally when women give chocolate the guy they like (the equivalent of our elementary school tradition of giving Valentines to everyone is called 'giri-choco' or obligation chocolate - for co-workers and such). March 14th is White Day, when the guys return the favor for the girls they like. The grocery store was well-stocked with adorable chocolates (and chocolate-making material). On February 15th, I bought some. :P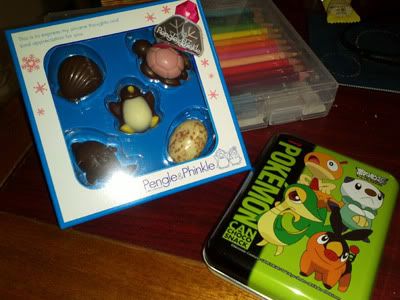 PENGLE&PHINKLE & POKEMON CHOCOLATE
Yes, I have a chocolate penguin, turtle, and dolphin. :DDD The Pokemon tin contains
these
, little cookies covered in chocolate. I mostly bought those for the tin, though.
This mood icon perfectly fits my brain right now. Go me.
...also, let's make this my first not-locked post since last April. Just cos. Hi, world!